Spring Ender – A Look Back at the EU LCS
As we did with our NA LCS recap, we'll be covering the journeys of all the playoff teams in Europe in this article.
This split was an undeniably historic one for the EU scene as a whole, as it's the first time in LCS history that a former champion fails to make it to playoffs, that the teams that finished in the top 3 have such a large amount of rookies and much more.
Fnatic – Rebuilt and Reigning Over
One of the biggest questions at the start of 2015 was how Fnatic could rebound after losing its star-studded roster. With all of the team's classic mainstays going separate ways except for support Bora "YellOwStaR" Kim, many fell under the impression that the days of Fnatic's dominance in Europe were over.
Attempting to shatter popular opinion, YellOwStaR pulled out something of a movie script, playing the grizzled war veteran who outlived all his fallen comrades, going on to recruit a team of young soldiers for one more perilous mission.
Now acting as team captain, YellOwStaR assembled his kill team. First he flew in Heo "Huni" Seunghoon and Kim "Reignover" Uijin from Korea. One was a Samsung Galaxy trainee yet to see major play, and the other was a struggling jungler who saw little success on Incredible Miracle. The big thing however, was the the duo reportedly destroyed the old Fnatic lineup in scrims before the 2014 World Championship, thus earning YellOwStaR's respect.
Rounding out the roster would be Fabian "Febiven" Diespstraten, the rising mid lane star that carried H2k-Gaming through much of the Challenger scene, and a fellow Frenchman in Pierre "Steelback" Medjaldi who briefly saw action on SK Gaming Prime.
His masterminded gamble paid off as the team he created actually worked eerily similar to how YellOwStaR and his old friends operated. They had a solo carry buddy system of top and mid lane charging through enemy ranks, an aggressive and vision-oriented jungler to get the solo lanes rolling and a quiet, somewhat passive AD carry that YellOwStaR would tirelessly defend until it could mop up mid-late game teamfights.
The stars couldn't have aligned more beautifully for Fnatic, as they blew the season open by destroying their biggest competition from last season in Elements. They managed to remain just a few steps behind SK Gaming's more consistent style while working through their own growing pains, until fighting tooth and nail through the playoffs with two 3-2 victories over H2k and the Unicorns.
It may not have been the cleanest run of form, but the fact remains that YellOwStaR defied all odds by being the first player in LCS history to hold 4 titles under his belt, not to mention attend all 5 finals in Europe thus far. Through his hard work, he proved without a shadow of a doubt that as long as an organization's culture and infrastructure is solid, then an entirely new structure can build on its foundation to once again reach beyond the clouds.
The scariest thing is that this is a young team. They are already champions, but they have a lot of room to grow. Because the Mid-Season Invitational is right around the corner, Fnatic have a golden opportunity to match their skill against and learn from the top talents around the world, if only to better themselves to remain dominant in the summer.
H2k-Gaming – Quiet Consistency
Behind the big name mainstays of EU in Fnatic and SK Gaming and contrary to the flamboyant flair of the Unicorns of Love, one team managed to stealthily rise to challenge the top of the European standings—H2k-Gaming.
The history of H2k in League is rather uneventful when it comes to making the big leagues. In their earlier years, they were constantly shifting rosters, be it selling their players off to the likes of Dignitas and GF-Gaming (in which they sold Kiedyś Miałem Team, who would eventually become Team ROCCAT), or just revamping their roster altogether.
It wasn't until 2014 that they saw success after acquiring the roster of Cloud 9 Eclipse. This iteration of H2k ruled the European Challenger scene, but despite their success, could never break into the LCS. Along the way, they also lost their main stars in Febiven, who shifted to Fnatic, and jungler Jonas "Trashy" Andersen who made the jump to North America.
But one pickup that ultimately did them a great service was not in a player position. Former NA LCS pro player Neil "Pr0lly" Hammad organized the latest H2k squad around solid team play, working around the language barriers that existed between the rest of the team and their pickup of old Korean mid lane legend, Ryu "Ryu" Sang-ook.
Under Pr0lly's watchful eye, H2k's players flourished. Andrei "Odoamne" Pascu established himself as Europe's foremost top lane tank specialist, Ryu got to relive his glory days on big assassin champions, and Petter "Hjarnan" Freyschuss finally found his soulmate in Raymond "kaSing" Tsang; a mid-split support swap in that led H2k to an 8-game win streak.
Their heavy objective focus in game allowed them to eke out gold advantages without needing to fight the enemy directly, a style that defined the team going into playoffs. Despite narrowly losing to the Spring Split champs in the semifinals, they put on a swashbuckling performance in the 3rd/4th place decider series against SK Gaming, coming from behind to win it 3-2 off the back of their calm and collected playstyle.
The best thing about H2k is their ability to fly under the radar. Because the team relies so heavily on crisp rotational play and objective taking, they have a distinct lack of individual standout performances. This makes them significantly harder to ban out, as they have multiple ways to find synergy and build a team that doesn't rely so heavily on one person.
In the Summer Split, look for H2k to continue being sneakily excellent in their play, as their rookies have now become battle-hardened, and 'prolly' be ready to run the table once more.
Unicorns of Love – Young Stallions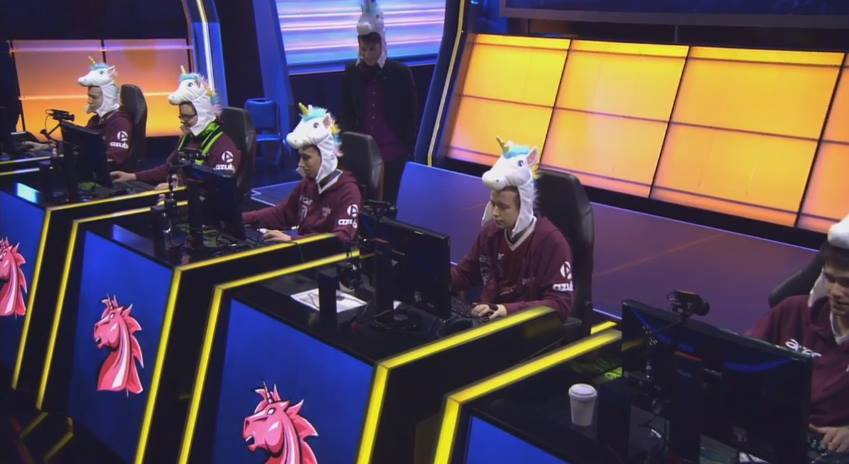 With nothing but friendship, private funding and a very unique team name, 5 players entered the LCS for the first time—and they did so to much fanfare. But it was more than just the quirky nomenclature that endeared this team to the fans.
The Unicorns had a penchant for aggression, taking fights wherever they could and even some they had no business taking. Combine that with the fact that they upset Team Solo Mid at IEM San Jose with a surprise Twisted Fate jungle pick and the hype train of love was born.
For much of the split, the Unicorns were an enigma, winning against teams that were stronger than them on paper, but losing to teams that were at the bottom of the barrel. Despite this, they continued to draw the admiration of the crowd with their oddball off-meta picks and nail-biting games, with both their regular season wins over Fnatic producing highlight reel moments and an unbelievable almost Nexus take.
Many doubted that a complete team of unknowns could make it big in the LCS. Others said they cruised through the playoffs on cheese. Still others criticized their lack of a "pause button", making them always choose to engage and take fights at every turn.
But as Unicorns dismantled Gambit Gaming and as they upset SK Gaming to go to the finals and as they took Fnatic through the ringer in a full 5-game series, nobody could deny that their play was electrifying. With their playoff wins, they made a strong case for the development of the Challenger scene and the high ceiling for new blood in any region.
Not since Team Coast in the first split of the NA LCS has a team outside 1st or 2nd seed made it to the playoff finals, and to have such a strong performance is truly a statement.
With their star mid laner Tristan "PowerOfEvil" Schrage continuing in Europe's tradition of mechanically proficient mid lane carries and Zdravets "Hylissang" Galabov making a name for himself as a premier playmaking support in the region, the Unicorns are ushering in a new age for Europe in style.
Their Cinderella split may have ended, but there are sure to be bigger things in the Summer Split and hopefully beyond that as well, as these young players continue to teach audiences to believe in magic.
SK Gaming – By Not-So-Far
There's no denying that SK Gaming was the dominant force in Europe for the entirety of the the regular season. They ruled the Spring Split with powerful laning and fast pushing that led to impenetrable mid-game gold leads.
They exuded confidence, with their new AD carry and Spring MVP, Konstantinos "FORG1VEN" Tzortziou infamously proclaiming that he and his partner were the best bot lane in Europe by far. For the most part, he was right. Despite a poor international showing at IEM Katowice, this SK squad coasted to a 15-3 record, which was the best win/loss ratio in the entire LCS, including North America.
However solid their style of play was, SK never deviated from it much. Many were worried the team would one day be figured out and have nothing else in reply. As it turned out, that was exactly the case, as Unicorns of Love constantly kept SK's apex predator AD carry away from his most comfortable picks to narrowly squeeze past SK into the finals.
Even in the match to decide 3rd place, SK's lack of adaptation allowed H2k to come from behind and eventually turn the series around. For a team that had such a stranglehold on the rest of the competition, the fact that they plateaued so heavily is quite the travesty.
But unlike many teams that have faltered this season, it's not like SK have fallen so far. It's only that the expectations for the team were so high. And their members are still solid, with Hampus "Fox" Myhre being counted as part of the new wave leaders along with Febiven and PowerOfEvil, as well as Dennis "Svenskeren" Johnsen being the undisputed king of Lee Sin in EU.
SK need not change the formula but merely add to it, as their displays so far have been impressive, if not predictable. Once they learn to diversify, they should have no trouble climbing back to the top of the mountain in summer.
Gambit Gaming – Overlords No More
Everyone remembers Gambit's glory days as Moscow 5. We've all heard the stories of them arguably being the best team in the world in their prime, their innovative jungle picks, their crisp and almost intuitive team fighting and so on.
However, when it comes to their rebranding to Gambit and their overall LCS history, the team has only made it to an LCS final once, which was the inaugural split of Spring 2013.
Since then, with the classic lineup being broken up, first by Edward "Edward" Abgaryan's stint on Team Curse in NA, to their resident mastermind Evgeny "Genja" Andryushin going into soft retirement and Aleksei "Alex Ich" Ichetovkin eventually attempting to reforge his career in the North American Challenger scene, Gambit have never looked the same.
Though their slide down the rankings in the previous splits could be seen as periods of turmoil and trying to redefine their identity in the wake of their key personalities leaving the roster, this split had Gambit come in with a clean slate, having refreshed their fans' faith in them after bagging another IEM tournament win, which is the 3rd in the organization's history.
Still, even with jungle pioneer Danil "Diamond" Reshetnikov looking revitalized, and with promising new members in the top, mid and AD carry positions, the best Gambit could muster was a 5th-6th place finish.
Though it may be tough to accept, the Gambit Gaming of today is completely removed from Moscow 5's stranglehold over the teams of that age. As the team moves into summer, look for them to put up respectable performances across the board, but do not hope for a return to their Russian Overlord status.
Copenhagen Wolves – A Pack in the Middle
Two things have always been true when it comes to the history of the Wolves in the LCS. The first is that they're known as resident 'gatekeepers' owing to their frequent appearances in the LCS Promotion Tournaments, whether it be defending their spot or attempting to regain it.
The second is that their organization manages to scout top level talents, most notably Søren "Bjergsen" Bjerg, Martin "Rekkles" Larsson and FORG1VEN, all of whom have been crowned MVP of the Split at some point. The caveat is that all these stars only seem to find success after they leave the CW banner.
This split has been the Wolves' time to shine, and to prove that they are more than bottom feeders and a temporary harbor for bigger ships. Though they didn't win a single game in the playoffs, they managed a much better winning record in the regular split, increasing their previous win percentage by 16%.
What's even more impressive is that they didn't do this off of a highly touted star either. Some key players in their roster simply improved. Though their top laner Joey "Youngbuck" Steltenpool was often touted as one of the worst at his position in the region, the recent shift into the tank meta has helped him become a serviceable initiator and distraction for the team.
Søren "SorenXD" Holdt Frederiksen has stepped up in the mid lane as well, becoming one of the most adept Cassiopeia players in the region, and constantly drawing bans for the champion.
The team's pick up of Aleš "Freeze" Kněžínek, formerly a staple on the Ninjas in Pyjamas lineup (that actually started by buying out Copenhagen Wolves' old roster in 2013), has also yielded great results as his proficiency on champions like Draven and Kalista have earned him much praise from his peers and analysts alike.
CW may not be challenging the top of the table any time soon, but for now it seems like this particular pack of wolves has moved up to fit squarely in the middle of the EU LCS ranks.
Before Summer Starts
We've already told you to click here to read The Promotion Picture, which is a recap of the Challenger Series playoffs, and you already know to stay tuned for the Promotion Tournament results article.
However, another big thing to look forward to will be the Mid-Season Invitational, featuring the top teams of every region battling it out for bragging rights in a sort of mini-World Championship.
Additionally, look for the exciting conclusions to Korea's LCK, China's LPL and the International Wildcard Invitational, as we round out the teams heading to his massive event.
Subscribe to INQUIRER PLUS to get access to The Philippine Daily Inquirer & other 70+ titles, share up to 5 gadgets, listen to the news, download as early as 4am & share articles on social media. Call 896 6000.